RARE Antique Bat-Printed, Pearlwear Deep Saucer and 2 Naughty Children Teacups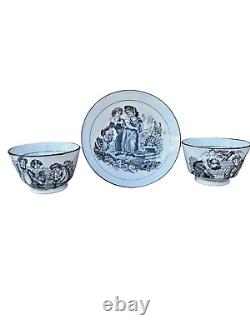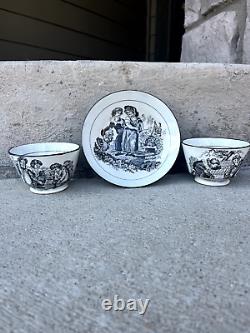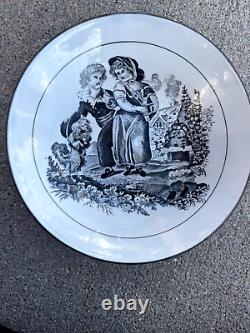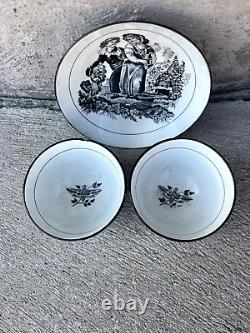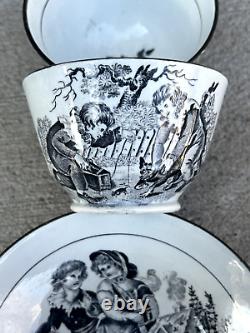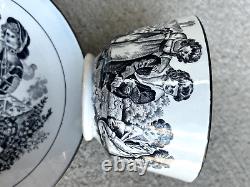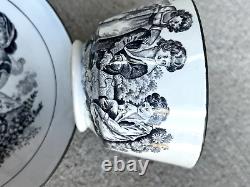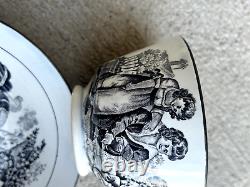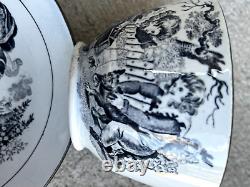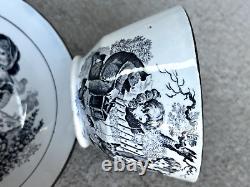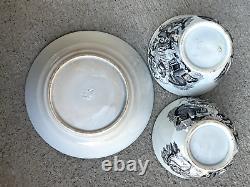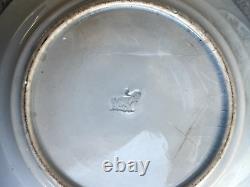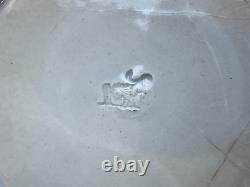 This Regency Period related set is in fantastic condition for its age. The saucer depicts two oversize children, a boy and a girl, and a dog dancing on its hind legs. The boy appears to be teasing the girl or showing off the dancing dog, while the girl is hiding her hurdy-gurdy from the boy. A country house (that appears much smaller than the children) is behind the children. The saucer is impressed with a mark: a left-facing lion carrying a flag with the word "DON" on it.
There is a ribbon underneath the lion that is partially eroded, but the last two letters of the writing in the ribbon appear to be "RY" or "BY". The teacups match each other and are related in theme (but not identical) to the saucer. It appears that there may have been a mark on the bottom of each cup at one time, but any mark is no longer legible. Each teacup depicts two scenes of naughtiness. In one scene, a boy tries to lure a dog into a trap with a mouse on a string as another boy tries to grab the dog from behind.
In the other scene, a girl and a boy watch another boy hold a spinning top in his hand, but it appears the top's string has broken. The inside of each cup has a picture of a moth sitting on a leafy branch. Condition report: All of these pieces are in quite good shape for being 200 years old. All of the depicted scenes have maintained excellent color and have no rubbing/scratching on the images except, in the case of one cup, only very minor defects to the scene.
The saucer is in excellent condition - the scene is completely intact and is still bright and shiny in appearance. The two bands of black trim are also in excellent shape, showing hardly any wear. The back is marked and crazing is slight. The outside bottom of the saucer does have a tiny chip on the foot that does not interfere with the balance. There is also one area of heavier crazing on the outside bottom.
One of the teacups is in excellent condition, with no visible defects to the depicted scenes and only the slightest rubbing to a few small areas of the black trim at the top of the cup. The second teacup is in good condition.
The string to the top depicted in one scene shows some rubbing, but the scenes are otherwise in excellent shape. The black trim lines are in good shape.
There are, however, two noticeable chips on the rim, both of them on the side of the teacup with the scene depicting the spinning top.