Antique Meissen Hand-Painted Teacup & Saucer, Pink Rose Pattern, ca 1852-1870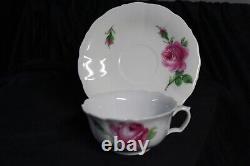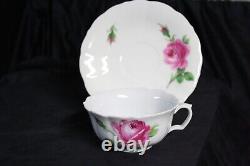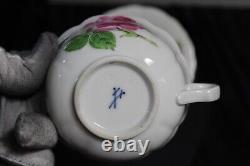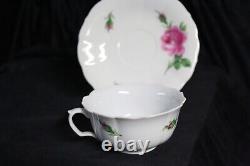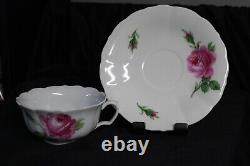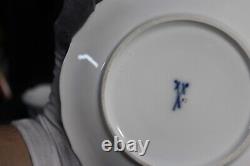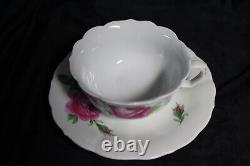 Hand-painted with delicate pink roses and green leaves, set against a pristine white porcelain background, its slightly ribbed sides and scalloped edge add a touch of elegance. Perfect for infusing your breakfast or dinner setting with country cottage charm, this set is also an impeccable gift for those who value the joy of afternoon tea. The teacup stands 2 tall, holding about 6 fl. While the saucer measures 5-7/8 across. This exquisite duo is not just a set, but a historic artifact, dating back to 153-171 years ago.
Marked with the distinctive blue "X" backstamp used by Meissen from 1815 to the early 1920s, and distinguished by two slashes - marking the piece as one of "unsuitable quality" from 1852 to 1870. The imperfections of its time which earned it the slashes are now its charms. The large rose on the plate has some small blue inclusions under the glaze which makes this piece all the more rare and unique. A piece that has weathered centuries with grace showing no chips, cracks, or crazing, and the pattern, surface gloss, and shine remain impeccable.
It is an ode to the unparalleled craftsmanship of Meissen's world class porcelain.